20m Face Veneer Dryer Machine Description
20m 2 face veneer dryer machine is the smallest roller face veneer dryer . Face veneer drye rmachine requirements is more higher than normal roller veneer dryer . The material is stainless stell , and the distance between two rollers is 140mm . the face veneer can be from 0.3mm thinnest. Shine veneer drying machine can be from 20m to 60 m . 1-3 deck. normally 4m is one section. we also can design special ones for different customers' requirements. The main components of Shine veneer drying equipment is as follows:1.Drying system :the face veneer dryer machine adopts the most scientific drying principle ,and the hot air in the hot air stove is injected directly into the upper and lower bellows of the machine by centrifugal blower. The hot air blows to the upper and lower sides of the running veneer through the nozzles of the upper and lower bellows, so that the veneer is heated evenly and thus plays the role of drying 2.Control system: Adopt endless gearbox to adjust feed speed according to your veneer thickness and moisture content to achieve ideal drying effect. 3.Transmission system :the veneer is fed into the machine through the feed inlet vertically, and the chain drives the upper and lower rows of rollers, running relatively. The veneer moves forward by the self-weight pressure of the upper roll, and during the veneer passes through the two rollers and the upper and lower air nozzles, it achieves the effect of drying and ironing. So the veneer dried by this machine is flat, smooth and without marks. 4.Heating system:Steam heating, heat conduction oil heating, hot stove type heating,waste wood or other biomass materials. Users can choose one.
Main Technical Parameter for DHS20M Face Veneer Drying Machine
Parameter

Model

DHS20M

DHS24M

DHS28M

DHS32M

DHS36M

DHS40M

Work width(m)

3

3

3

3

3

3

Deck

1

1

1

1

1

1

Veneer thickness(mm)

0.5-5

0.5-5

0.5-5

0.5-5

0.5-5

0.5-5

Heating area (m)

16

20

24

28

32

36

Cooling area (m)

4

4

4

4

4

4

Initial water content(%)

50-80

50-80

50-80

50-80

50-80

50-80

Finished water content(%)

10

10

10

10

10

10

Drying capacity (m³/h)

0.5-0.65

0.65-0.8

0.8-1

1-1.2

1.15-1.35

1.3-1.5

Heat exhaustion(10000 kcal)

17.5-23

23-285

28-35

35-42

40.25-47.25

45.5-52.5

Traction motor power(kw)

7.5

7.5

5.5

5.5

5.5

5.5

Hot air fan power (kw)

7.5*4

7.5*5

7.5*6

7.5*7

7.5*8

7.5*9

Air cooling fan power(kw)

7.5

7.5

7.5

7.5

7.5

7.5

Total power (kw)

45

52.5

58

65.5

73

80.5

Overall size LxWxH(m)

20*4.5

24*4.5

28*4.5

32*4.5

36*4.5

40*4.5
More Pictures About Shine Face Veneer Dryer and Other Veneer Dryer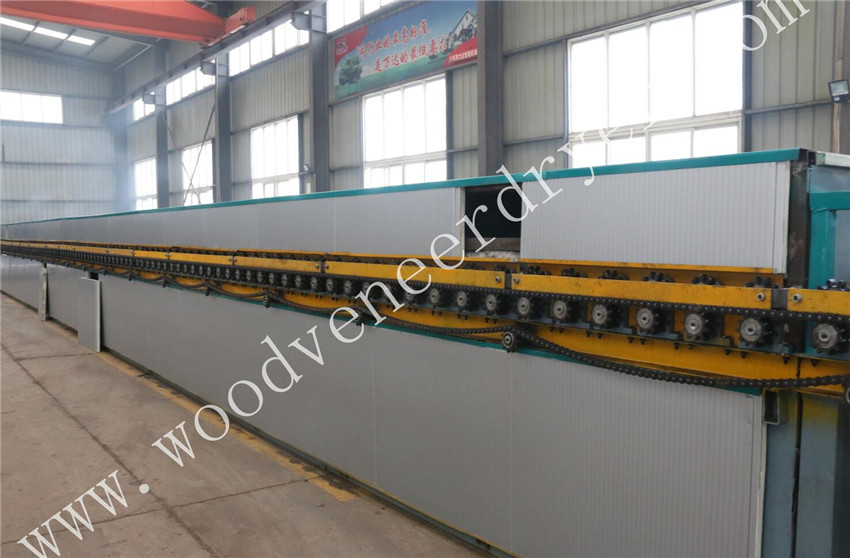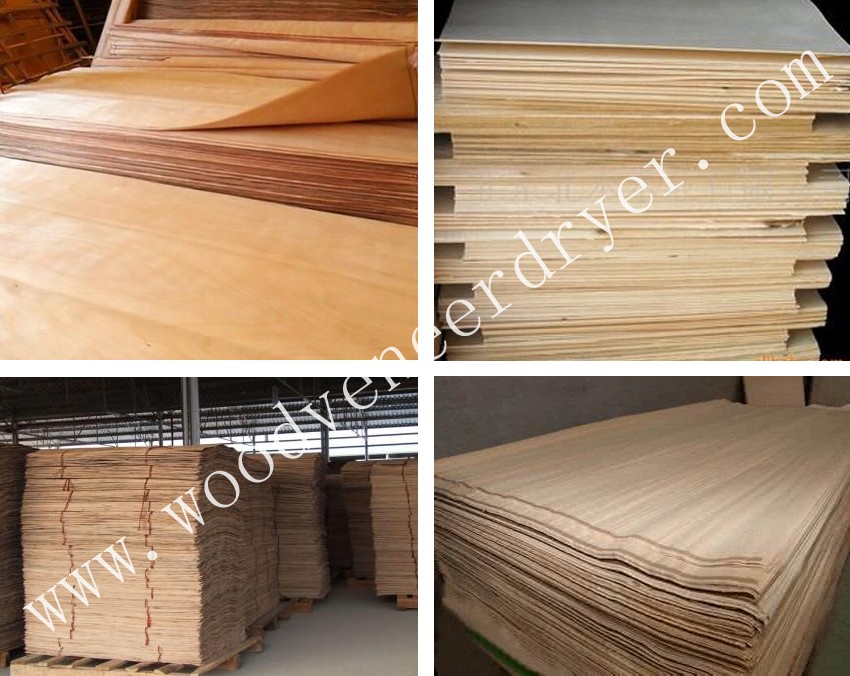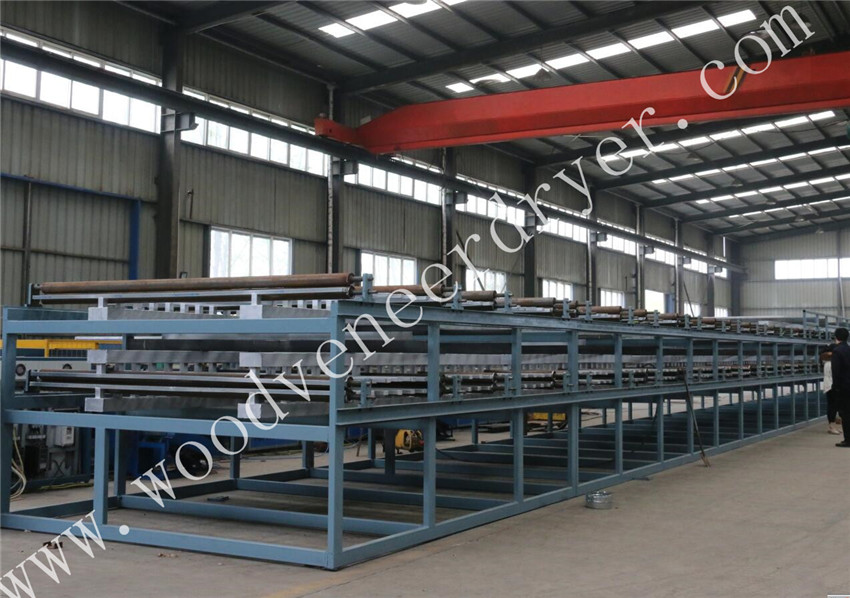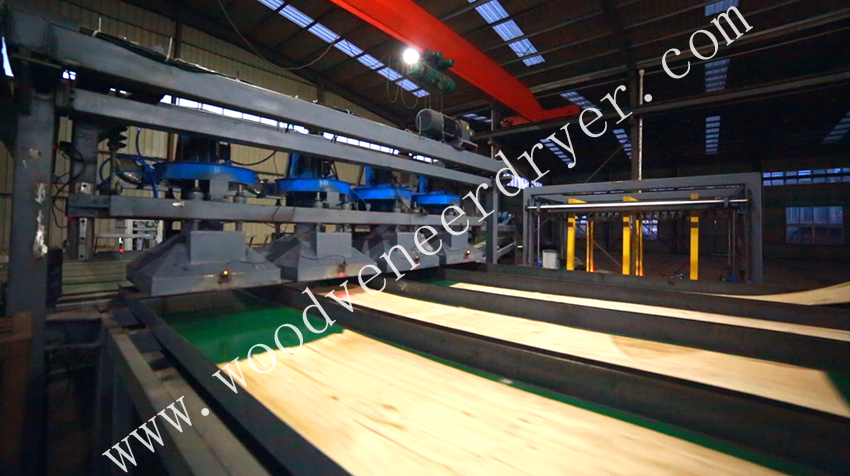 Shine Machiney Company Introduction
Shandong Shine Machinery Co.,Ltd is a large-scale enterprise specializing in R&D and production of veneer rotary cutting and veneer dryer equipment under the Shandong Wanda Heavy Industry Co., Ltd. Since its inception, the company has been adhering to the vision of "making first-class corporate contributions, building first-rate enterprise talent, creating first-class corporate brand,implementing modern enterprise management system, using new sales concepts and service systems, and investing 10 million yuan in scientific research each year. It also combine industrial universities to study high-end technology, so that Shine's veneer dryer products are always at the forefront of the industry's technology.
The company is located at the intersection of National Road 105 and National Road 308. It has 10 standardized workshops, covers an area of 70000 square meter, and has a building area of 12,000 square meters. It has 150 sets of various equipments and has complete machining, heat treatment, punching, welding, and assembly, painting these six production lines.The advanced equipment, exquisite craftsmanship, and advanced research and development make the Shine veneer dryer products have many advantages such as reasonable design, reliable performance, high quality, low energy consumption, easy operation, and high output. Products are sold to various provinces and cities in the country, and exported to Russia, South Africa, Southeast Asia and many other countries and regions.
The company's veneer dryer line and veneer peeling line have won the unanimous praise of our customers with high precision and high cost performance. With perseverance in the spirit of struggle and work attitude of excellence.Shine Intelligent will leave a solid footprint in the process of China's industrial modernization and the development of urban development.
To provide value-added services and solution to customers is the purpose of Shine Machinery. Integrity casts brand and brand leads the market. With our efforts and the trust of our customers, we and our customers will be more successful.





FAQ
1. Q: Are you a factory or a trading company?
A: We are a factory who manufacture the machine by ourselves.
2. Q: What is the delivery time?
A: Normally will be 30 days after getting deposit or original LC.
3. Q: What is the maintenance period? What kinds of after-sale service do you support?
A: 1 year after delivery. We supply telephone after-sale service, video service and e-mail service. If can not deal with the problem, our tech-staff will go abroad to service.
4. Q:What is the payment terms?
A:a.T/T(30% deposit, 70% before delivery in FOB or 70% paid against copy of B/L in CFR)
b. 100% irrevocable L/C at sight.
5. Q: Can we visit your factory?
A: Welcome to visit us! Everyday we have customers from different countries. By now, we have exported to more than 50 countries customer.